For being the 
second-most visited national park in Colombia
, accurate information on everything Parque Nacional Natural Tayrona has to offer can be hard to find. This makes overnight stays in the park cumbersome to plan. To make things even trickier, most of the campgrounds are not easily accessible by public transportation, especially direct from Santa Marta, the origin of most visitors. Day trips are possible, but in this huge park with only limited vehicle access, they need to be carefully planned. Thus, the logistics questions for visiting can quickly multiply – where do I stay in the park? How do I get there? What can I buy there, and what do I need to bring? How uncomfortable is going to be? And if I just go for the day, can I get in and out in time and still enjoy myself?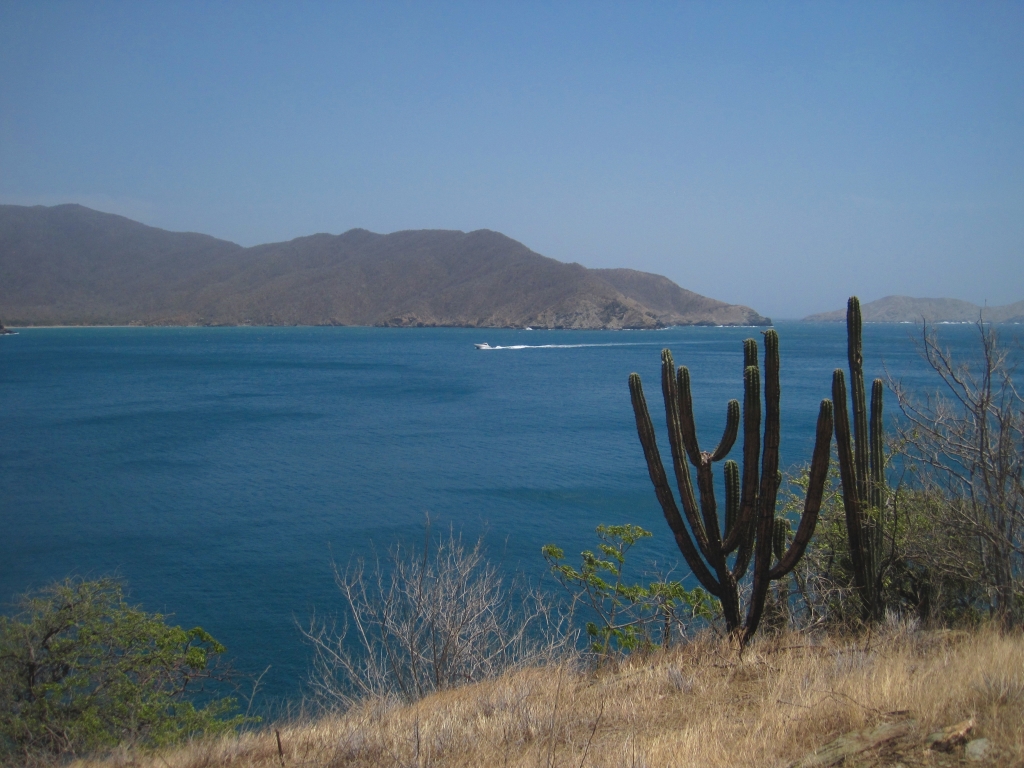 Bahia Concha, in the western end of Tayrona National Park. Though only a few miles away, the desertlike climate in this region contrasts to the jungle surrounding Cabo San Juan, the most popular beach
I decided to do some first-hand research in the park to answer some of these questions for myself, by hiking from a lesser visited entrance to the park, Calabazo, to Zaino, the entrance where most people both enter and exit. Before leading to the beach, this path goes through Pueblito – an ancient archaeological site built by the Tayrona people – who also constructed the famous Lost City (stay tuned for my post on that!).  Asking around, very few people seemed to know anything about this Calabazo – Pueblito – San Juan del Cabo (the beach) trail, other than it was extremely difficult and would take a long time.
A map of the park, with my proposed route from Calabazo to Zaino marked in bright red
I also decided to make it a day trip, reasoning that for such a tough hike I'd be better off taking only the essentials, rather than a heavy pack with everything I'd need to camp. Plus, I wanted to see if this "thru-hike" could be done in a day – if not, I guess I'd be camping anyway, one way or another! Getting to Calabazo is muy fácil. Buses with "Tayrona/Palomino" posters on the dash rumble along the highway leading east out of Santa Marta on a very regular basis. Tell the driver to stop at Calabazo. It's the entrance closer to Santa Marta and should only take about 15 minutes or so. I was on the slow bus to China, seemingly stuck in the lowest gear, so it took a bit longer. But I was still there early, at 8:30, ready for a long day. The park opens at 8:00. Calabazo is a little village of sorts that doesn't seem much like a national park entrance. Cross the road from the Calabazo bus stop and continue down it (in the same direction the bus went) about 50 to 100 meters until there is a broad path leading up a hill on your left. You should see a big sign for the park almost immediately. The entrance fee for the park for foreigners is a (relatively) steep COP $39,500, but as I walked the first quarter or half a kilometer of this trail, past a few houses, I thought I had cleverly found the "free" entrance! Alas, there eventually was a ranger station of sorts, and I did have to pay and get my wristband.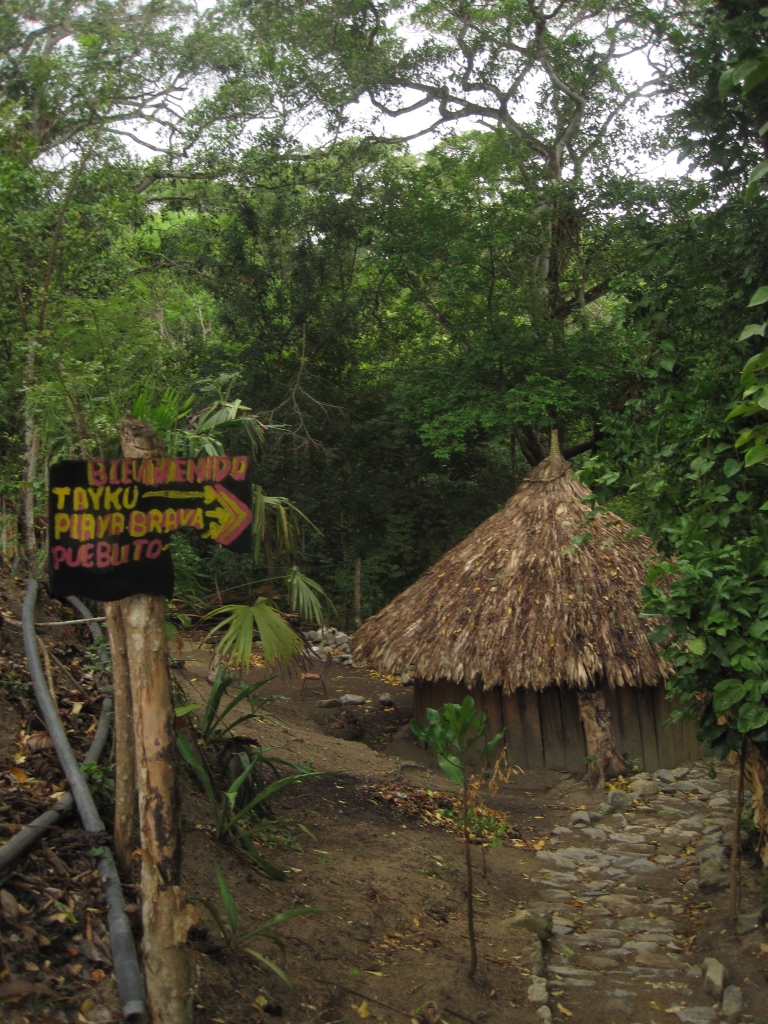 The trail from here to Pueblito was not nearly as difficult as advertised. Mostly a gentle incline through the jungle, it leads through an unpretentious Tayku village where drinks are available for purchase if you didn't bring enough. At Pueblito itself, which is much bigger than I expected (apparently it's twice the size of the Lost City, but what's been uncovered is only a fraction of this). Huts had been constructed on some of the terraces of Pueblito, as they had been hundreds of years before – and these appeared to be currently inhabited. Pretty cool to think this ancient city is living once again.
A village of indigenous Tayku people inside the national park
Manuel, a Tayku villager, tending a small store along the trail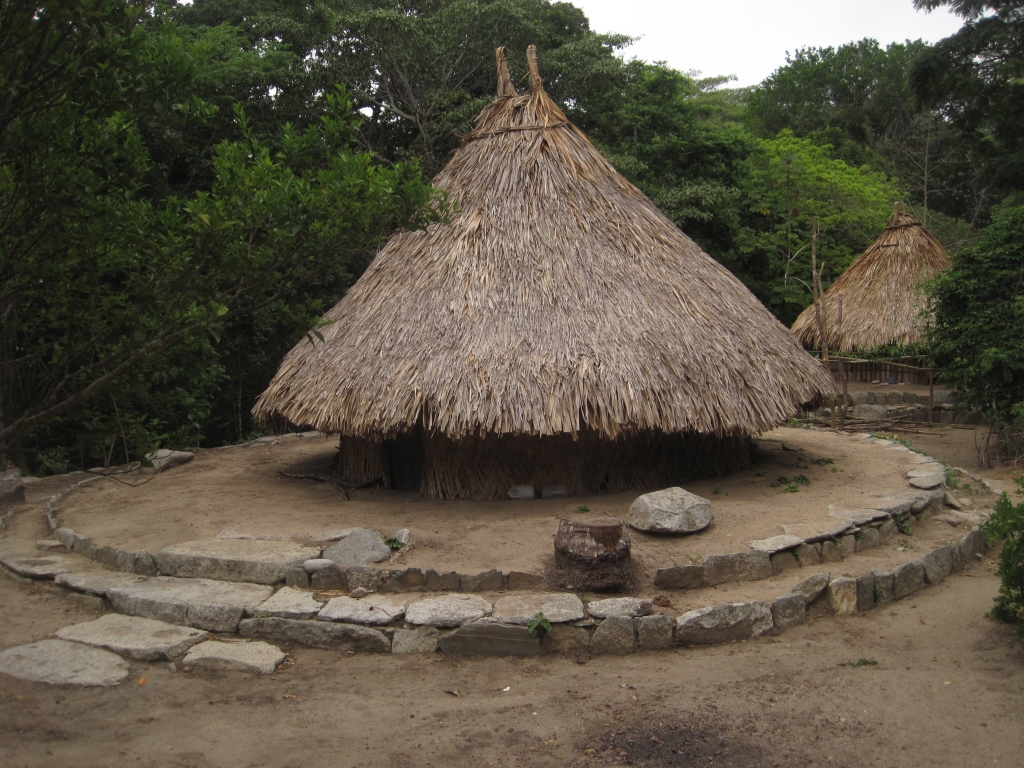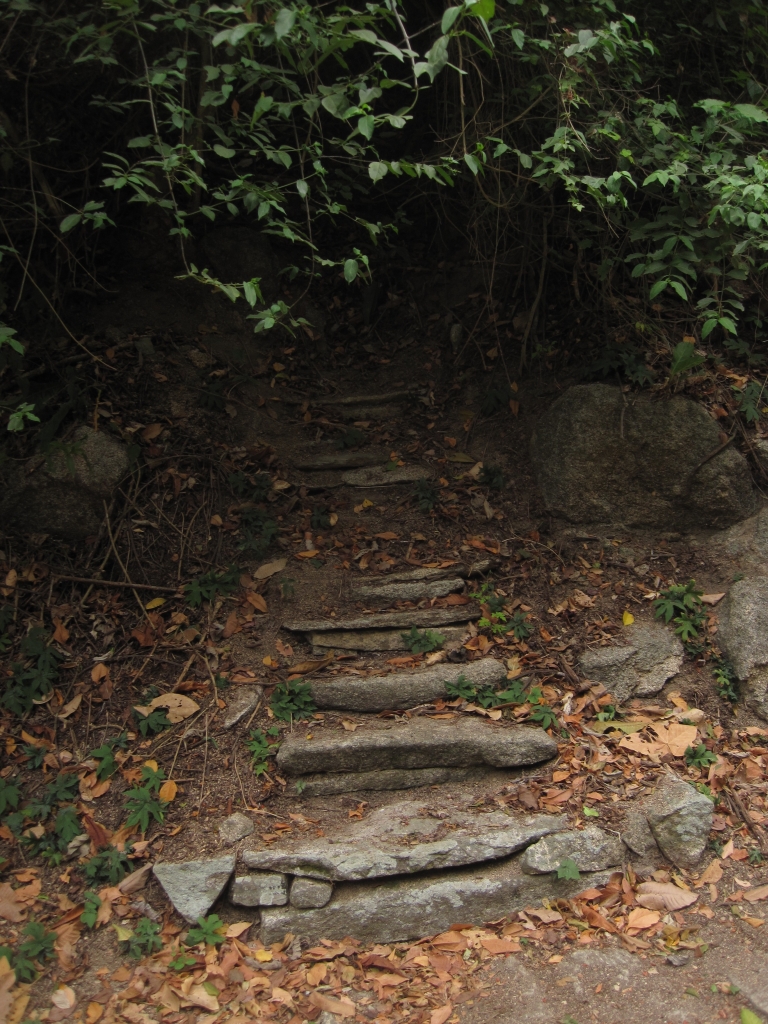 A partially uncovered staircase in Pueblito, leading to…?
Pueblito was constructed at the edge of a plateau overlooking the sea, and this is apparent the moment you leave. The sea can immediately be heard (and smelled, if your nose is good enough). From here, the trail steeply goes down, over huge boulders wrapped in thick strangler fig vines like the arms of a huge octopus. It's a scramble all the way down to the sand, but not too difficult unless you're going up, which most people are. Thus the reputation of this section of the trail.
Watch out for intersecting traffic, in the form of long lines of leaf cutter ants!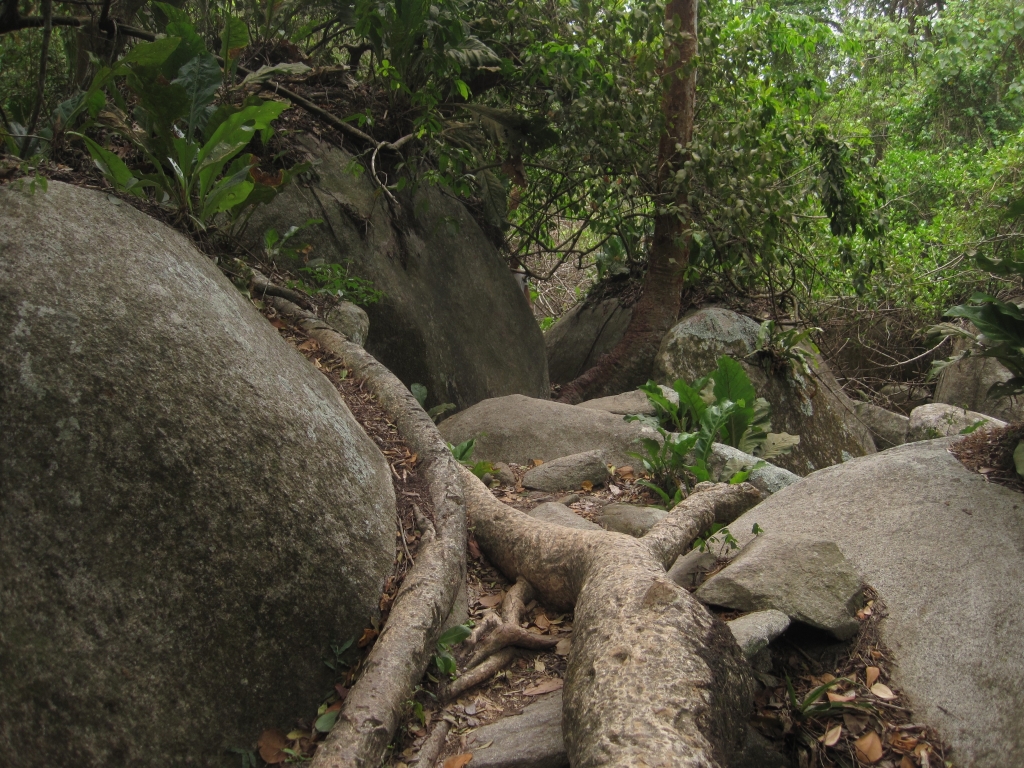 I'm a good guinea pig for trying out new trails, because if there is a way to get lost, I will find it. And I did, about two minutes walk from the beach. For an hour. I did find the beach, however. Well, a beach, from which I had no idea where to go next. Though as I found out later, if you find yourself here, just walk to that headland visible in the distance of the picture below and keep going.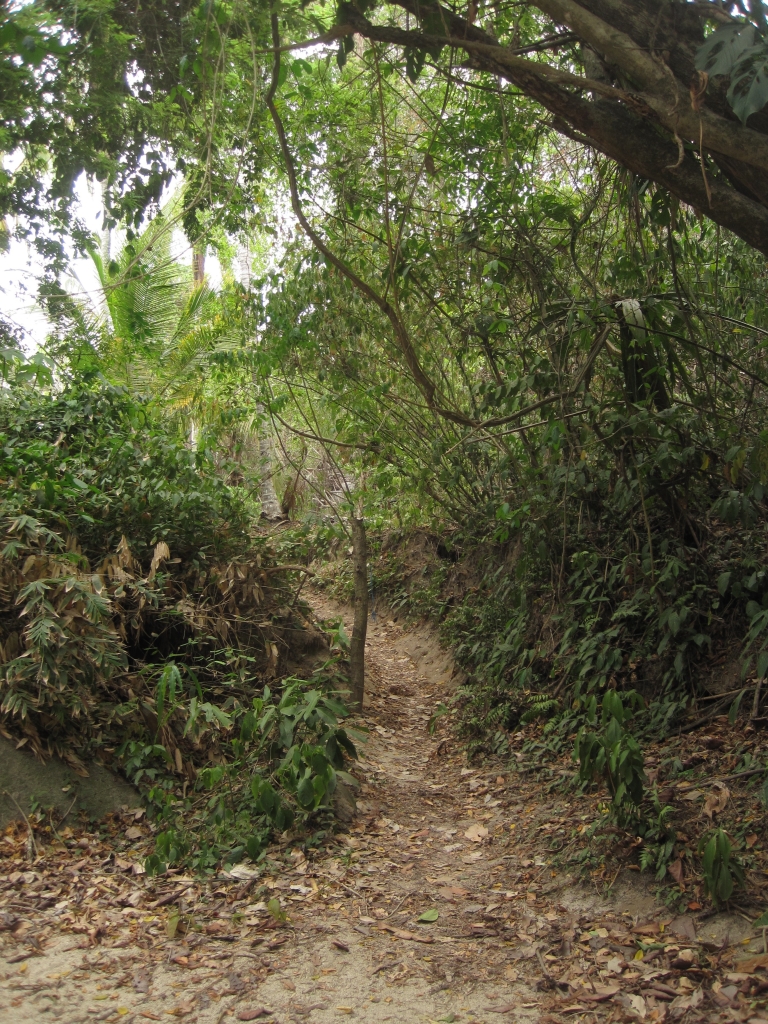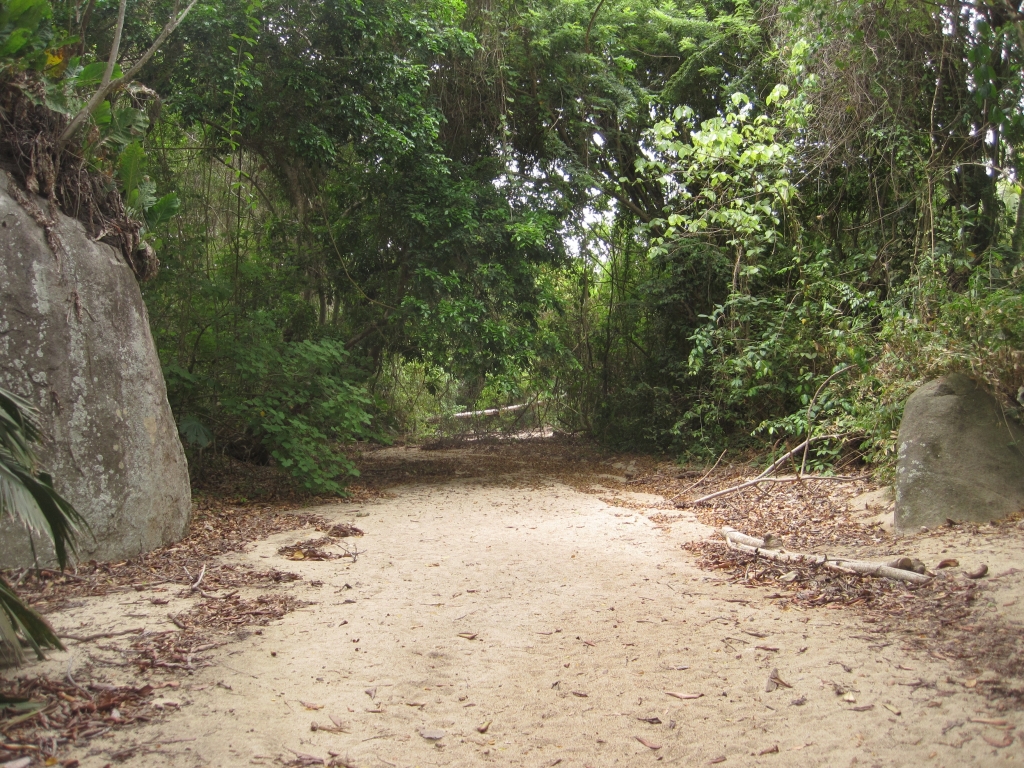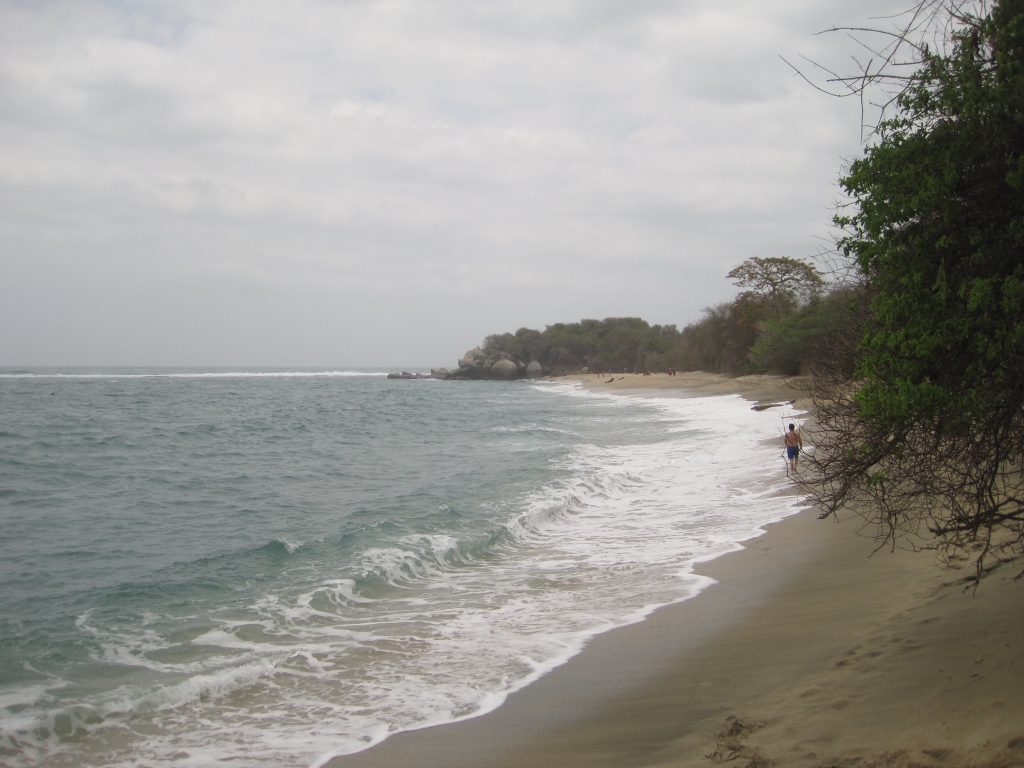 Here's what you should do, pictorally:
When you get to the gigantic boulder above…
But not this way! It's just a dry streambed. Usually the broadest path of a fork is the way to go, but not this time.
Finally, I made it to Cabo San Juan beach! Though it was a bit of a cloudy day, making everything a bit gray, I could see why this gorgeous beach is so famous. The beach is divided in two by a headland with a hut on top – the same hut gracing the cover on the 
2012 cover of Colombia Lonely Planet
! If you're lucky enough to get hammock space here, you can camp overnight, just above the breaking waves. But be warned, I heard secondhand that it gets cold and wet at night here, with some mean bugs to contend with (the other hammock area further back from the beach is equipped with mosquito nets).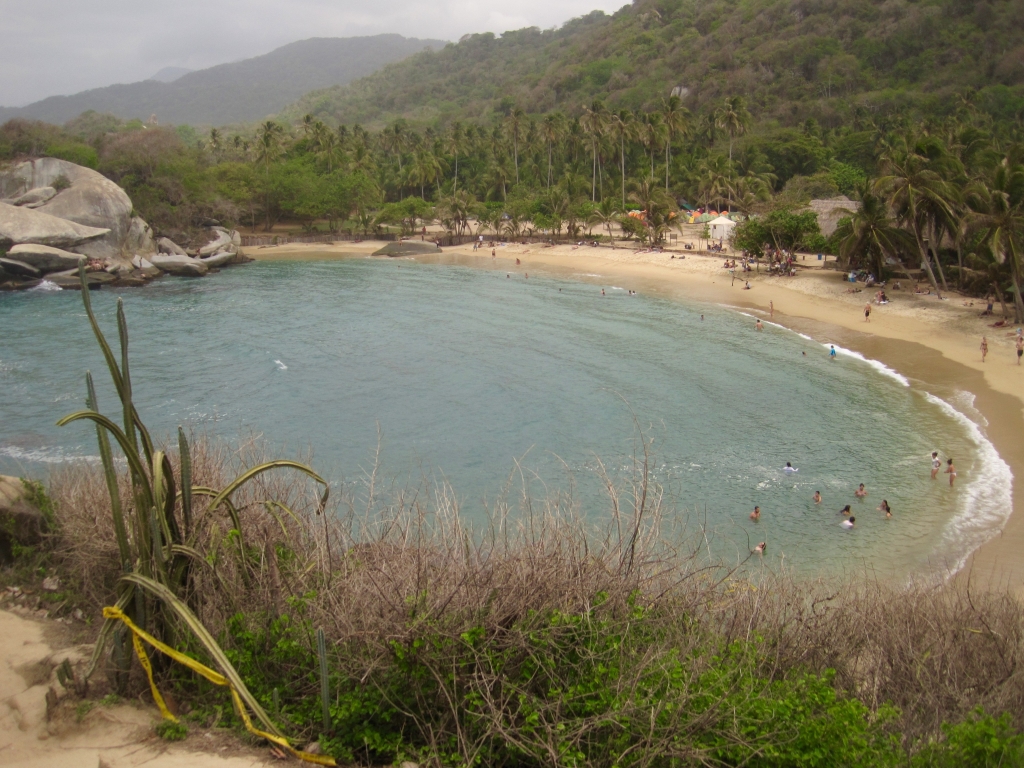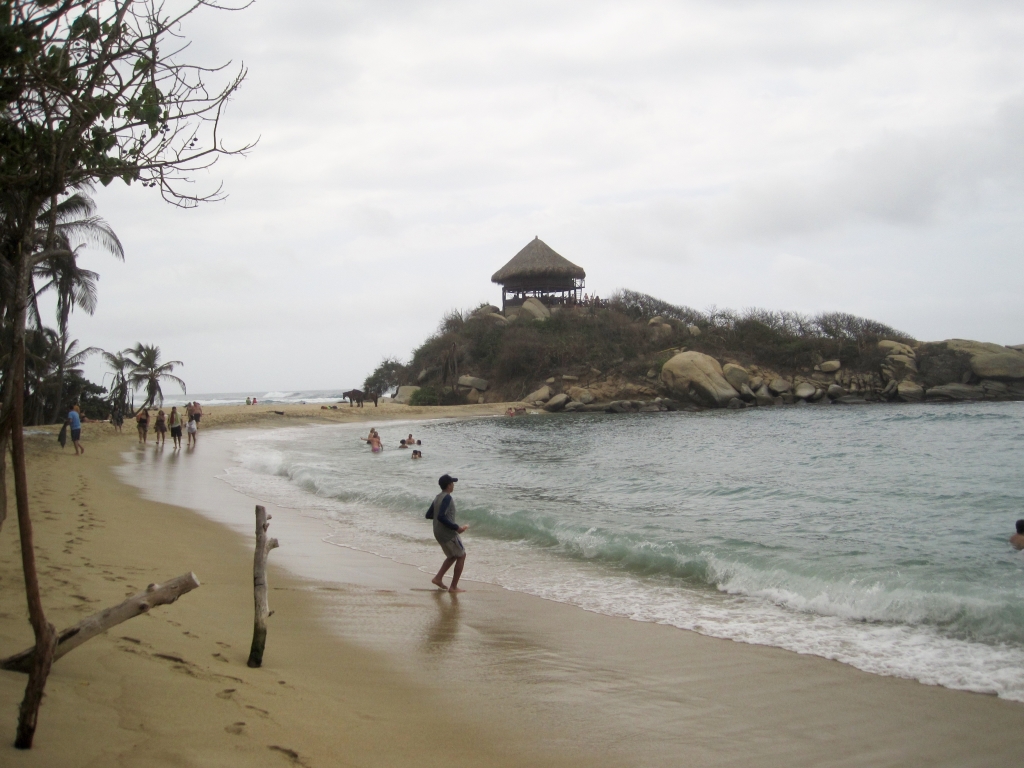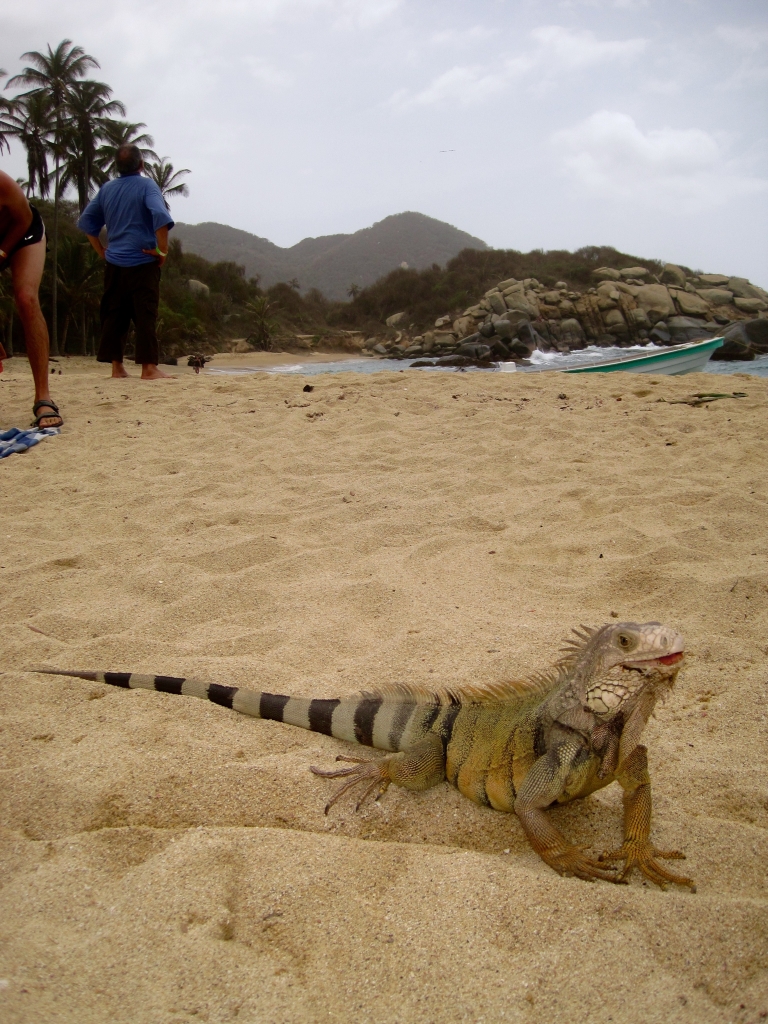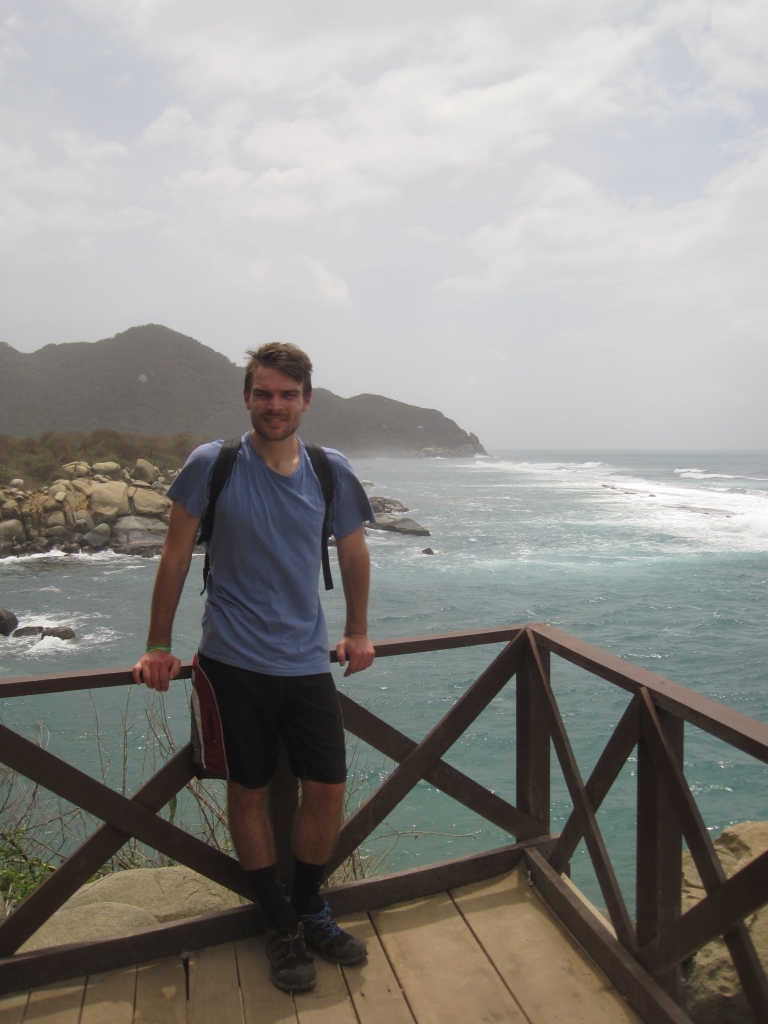 Above: Your intrepid author 
Left: Cabo San Juan Beach
Above: The Lonely Planet hut as described above Left: One of Cabo San Juan's many sunbathers 
I ate lunch at the San Juan del Cabo restaurant. The food was good, pretty inexpensive, varied, and served for three meals a day. It's worth noting, because several other blogs claim that the food is expensive and bad, so that you should lug your own in. There's no need, and I would recommend bringing only a minimum of food, even if you camp – maybe a few snacks. It'll be less weight on your back, and less trash to throw away in this sensitive environment. If you really want to be green, take a water filter or a big jug of water so you won't have to buy so many individual water bottles out here. And please pick up trash on the ground from others who aren't as conscientious!
Sometimes you get lost and find an empty beach.
Continuing on, I followed the main trail east towards Cañaveral, the last beach in the park before the Zaino entrance. Make sure to do plenty of meandering from the trail to the many beaches you'll pass, time allowing of course. This coastal part of the trail takes about two hours, with any beach time additional to that.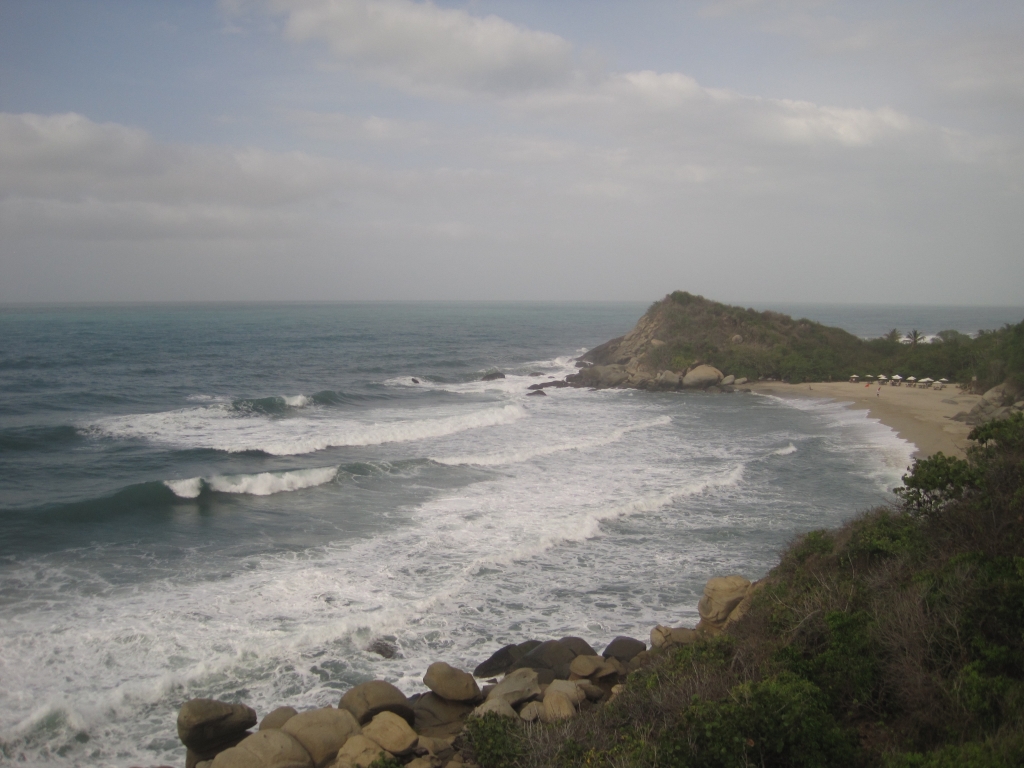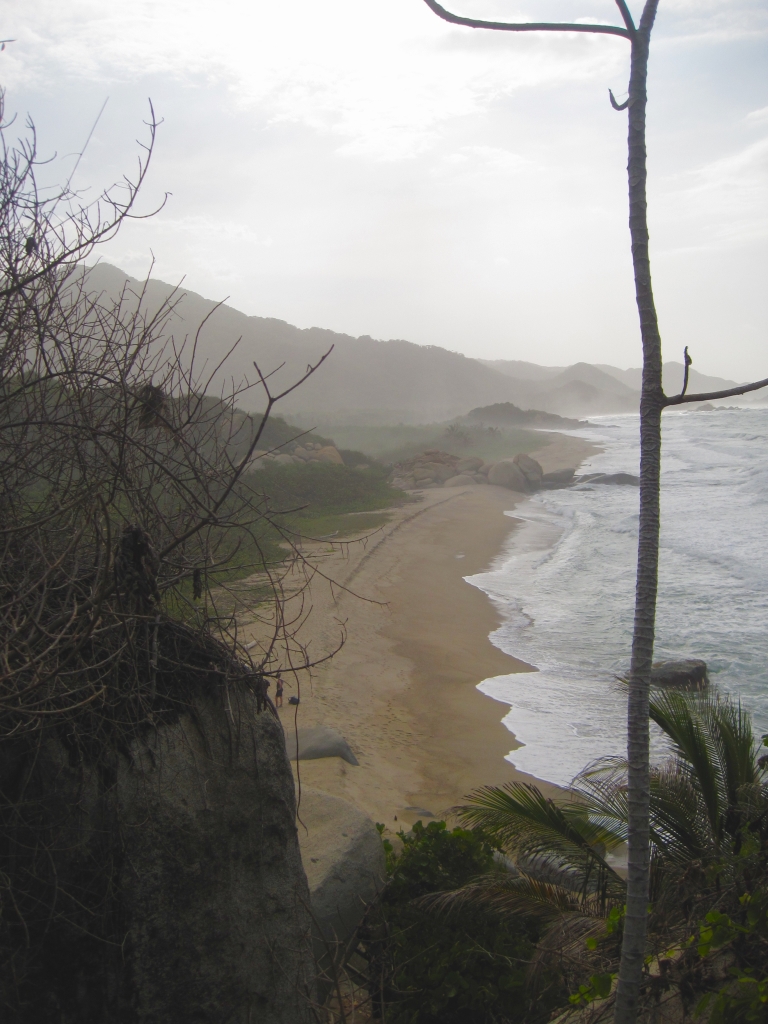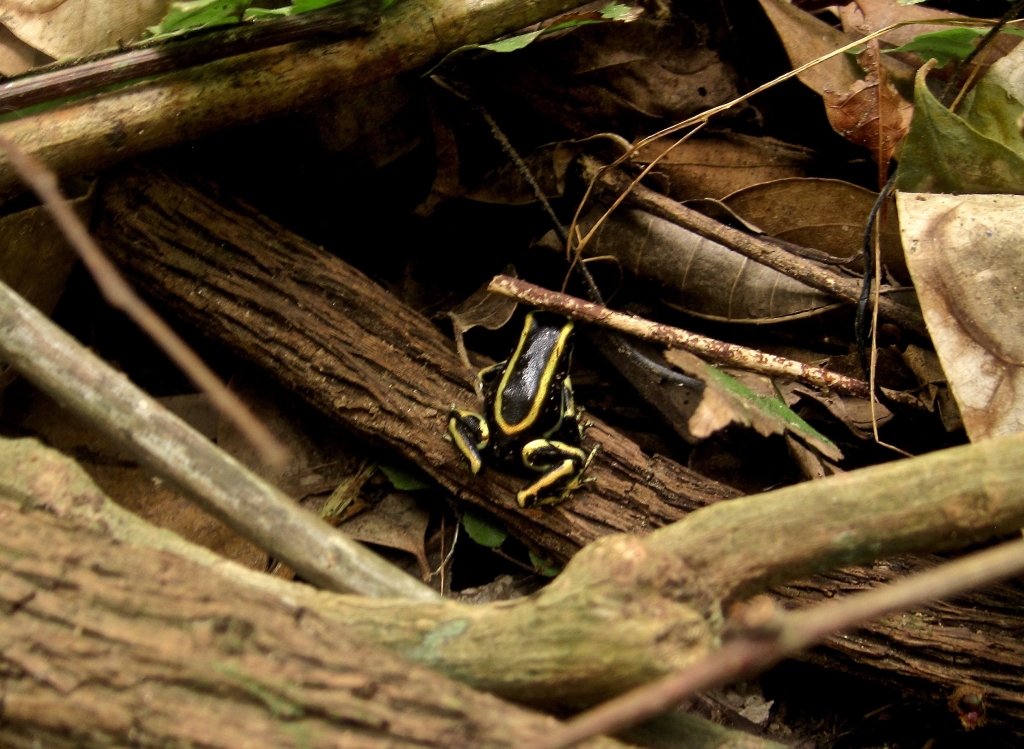 A yellow-striped poison frog, Dendrobates truncatus, I found along the way. The epitome of "look, don't touch"
Once you reach the Cañaveral station/shop, start walking left, past the super-exclusive "eco-habs", to reach Cañaveral beach, a real classic that I caught empty at the golden hour. Or, go right, and you'll see some vans ready to take you the rest of the way to the park entrance. I arrived at 5:00pm, which is actually when the park closes, and there were plenty of vans left, even when mine departed. If you do get stuck for some reason, it's not the end of the world – just walk the 2 kms to the main highway, where buses to both Santa Marta and
Palomino
(an excellent beach village to stop at for a day or three, by the way – there's fantastic river tubing, as well as a view of the highest mountain in Colombia, the snowcapped Pico Cristóbal Colón, from the hot and very un-snowy beach!) will ply back and forth well after dark.
Miles of deserted beach await along Tayrona's coastal trail
Cañaveral beach, as described above. It can also be seen at wave-level in the cover photo of this post
In my estimation, there are few parks in the world that combine as many features as Tayrona National Park – ruins, indigenous villages, jungle, and world-class beaches. And you'll pass by all of these things by taking the trail outlined above. Were I to return to Tayrona, the only thing I'd do differently is spend a night at Cabo San Juan – the trail can easily be done as a day trip, but it'd be nice to see the sunrise and sunset at the beach, as well as take a little more time to chill. I'm sure the more dedicated beach bums out there would agree.