At Wes Skiles Peacock Springs State Park, (named after underwater photographer
Wes Skiles
) you can truly be alone with nature. From an obscure country highway, one turns onto a lonely road past farmland, complete with perfectly-rolled hay bales on green pasture. Then it's a dirt road into the park, which has neither pavement nor buildings. The two times I've been there, no ranger was on duty – the park fee is based on an honor system. From a central area with informational panels and a cloudy pond called Bonnet Spring, a very narrow sandy road best suited for four wheel drive leads deep into the forest to Peacock Springs. On a Wednesday afternoon in the middle of summer, I was the only one in the park, staff or visitor. No car traffic could be heard in the distance either – just cicadas and birds.
This wasn't my first time at Peacock Springs, however. When I visited almost three and a half years earlier, a thick mat of duckweed covered every spring in the park, with only a very small opening of clear water above the cave of Peacock Springs. I was worried that it'd be even worse now – especially since Florida's Water and Land Legacy campaign (which, if you are a Floridian, you should
vote 'yes' on
this November!)
released a "before and after" photo
showing the spring in 1989 and 2012, with the algae visible in the 2012 photo.I was very pleasantly surprised to see that the duckweed was all gone. I can't
find a source to a recent restoration project at the springs, but I 
imagine that this algae must have been removed manually. If so, good job to the park rangers or whoever cleaned it up! If you know anything more about a cleanup project at Peacock Springs, please leave a comment below!
Now on to the fun part – underwater exploration! The springs are a veritable wonderland. The entrance to the cave is not very deep compared to most springs – maybe 10 or 15 feet. And what a cave. The entrance is very broad, with only a gradual slope into the depths. This accessibility makes it easy for a freediver like me to take a look. Which I do in the video below!
Once in the cave, it's an amazing sight to look back out toward the entrance. Beams of light shine brilliantly through the water, illuminating everything around.
There's also a surprisingly large school of fish hanging out at the entrance, that would expend only a modicum of effort to move out of my way as I swam through them.
Despite the restoration successes here, there is still room for ecological improvement. Underwater algae is present all around, and the spring could be a bit clearer – the green tinge in the water is indicative of a weakening flow.
Still and all, for its isolation, natural setting, fish, and amazing cave, Peacock Springs is one of my favorites in Florida. Visit on a weekday for the full effect – that prickly, exciting, but slightly dangerous feeling you'll get from having no one else around is something that's hard to find these days.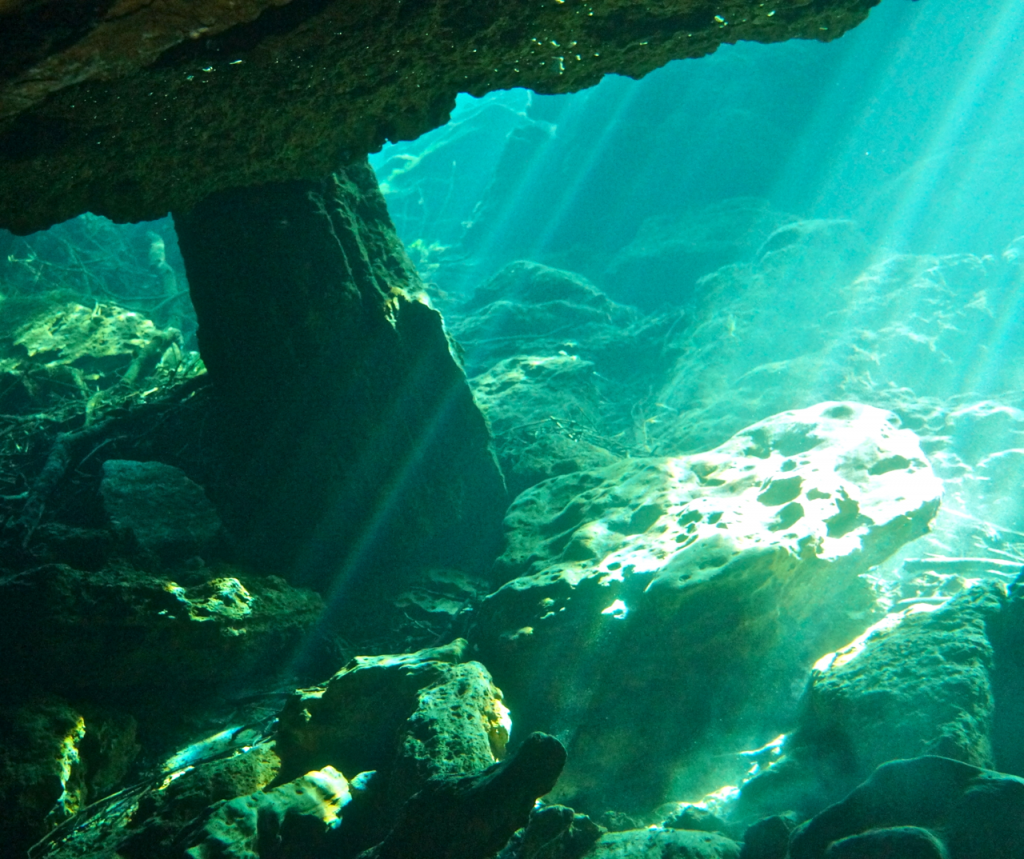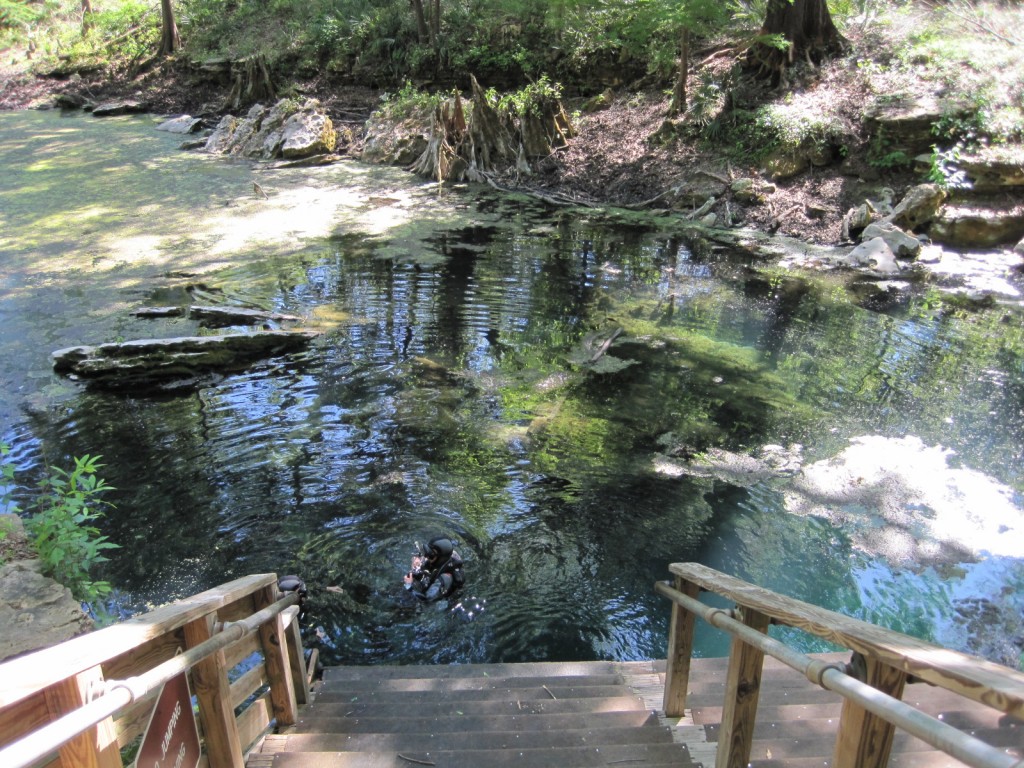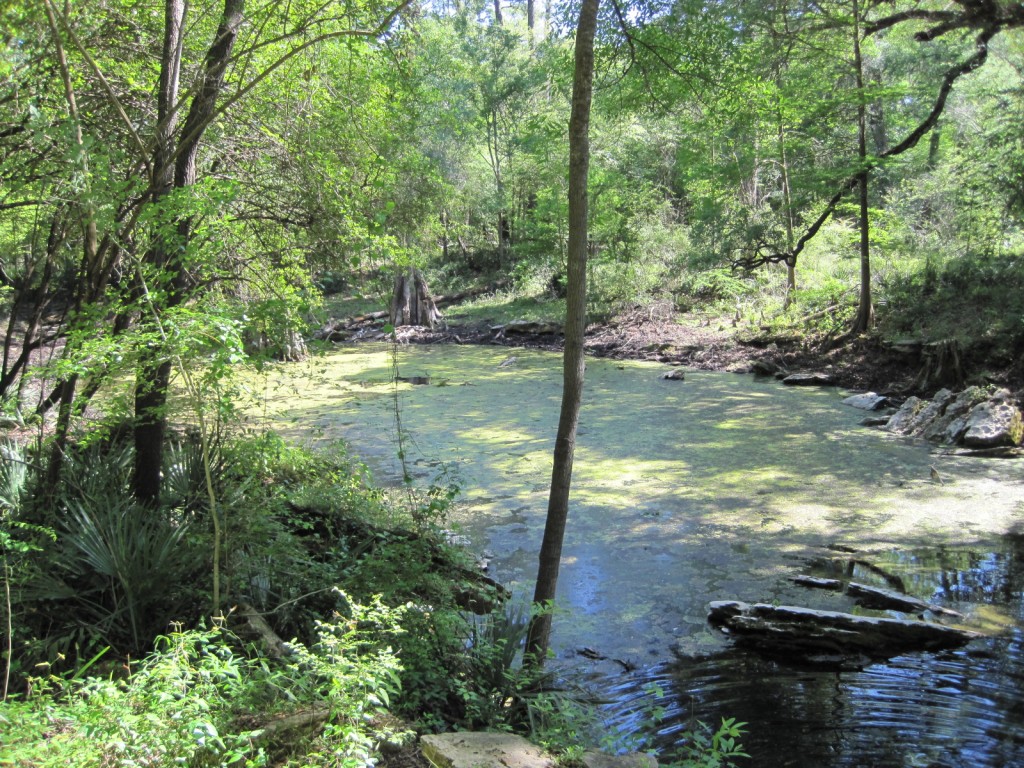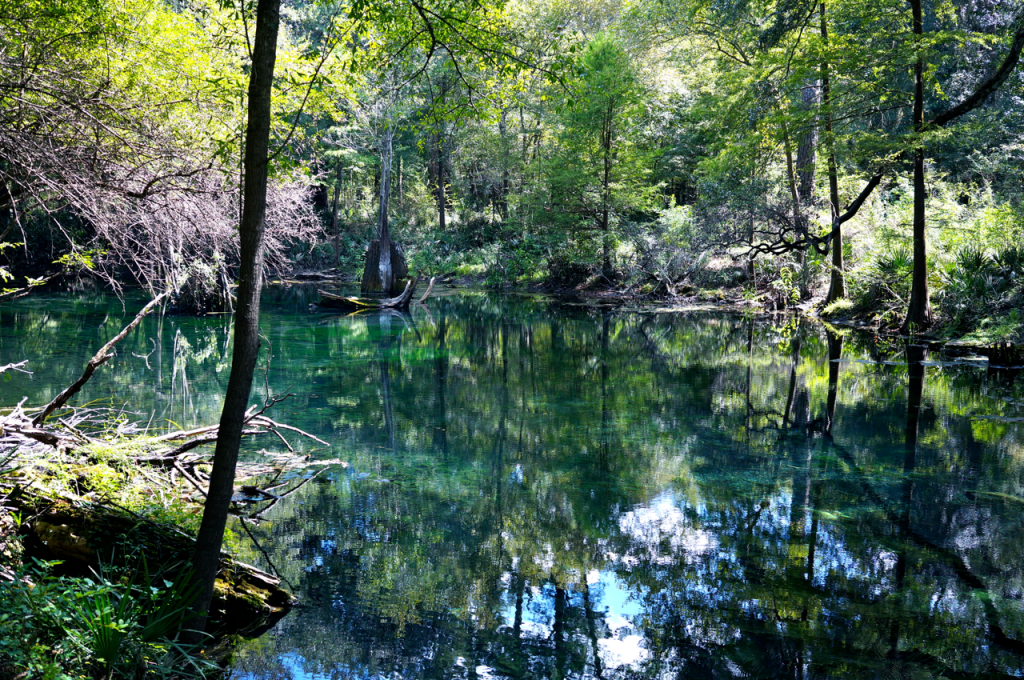 Duckweed algae infests Peacock Springs in March 2011
The same springs in August 2014. Much better!